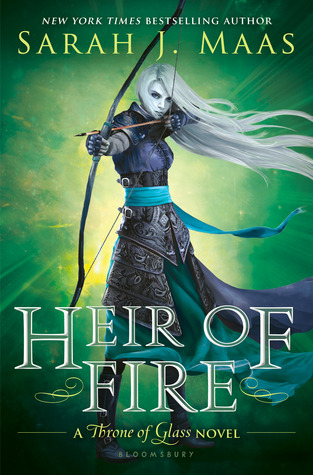 Heir of Fire

Throne of Glass 3

Author: Sarah J. Maas
Pages: 565 pgs
Genre: YA, Fantasy
Release Date: September 2nd 2014
Review Source: Publisher
Lost and broken, Celaena Sardothien's only thought is to avenge the savage death of her dearest friend: as the King of Adarlan's Assassin, she is bound to serve this tyrant, but he will pay for what he did. Any hope Celaena has of destroying the king lies in answers to be found in Wendlyn. Sacrificing his future, Chaol, the Captain of the King's Guard, has sent Celaena there to protect her, but her darkest demons lay in that same place. If she can overcome them, she will be Adarlan's biggest threat – and his own toughest enemy.

While Celaena learns of her true destiny, and the eyes of Erilea are on Wendlyn, a brutal and beastly force is preparing to take to the skies. Will Celaena find the strength not only to win her own battles, but to fight a war that could pit her loyalties to her own people against those she has grown to love?
I can't even begin to tell you how much I squeed when I got a copy of this book in the mail, and to see how long it was! This was probably my favorite book this year, bar none, and I hate that it will be another year before book 4 comes out.
Throne of Glass
and
Crown of Midnight
were both brilliant. They set the stage for this amazing series and introduced our main characters. Even the prequel stories in the bound copy, The Assassin's Blade, were great because we got to see what led Celaena to Endovier.
But, in my opinion, I think Heir of Fire is the best book in this series so far. Not only did we get to follow our main favorites (Celaena, Chaol, and Dorian) but we were also introduced to some pretty awesome new characters as well: Manon Blackbeak, Rowan Whitehorn, and Aedion Ashryver. Each added a bit more to the story and made me love the world Sarah has created even more.
Oh! And the wyverns. Just wait...
Celaena grows so much in this book, and for those who've read Crown of Midnight you'll know what I'm referring to, as well as Dorian and Chaol. I don't want to give anything away, but I will say that things have definitely taken an interesting turn for each of them.
Waiting for book 4 won't be easy, especially after getting to read Heir of Fire so soon, but I know that it will be worth the wait. And Sarah will be coming to my neck of the woods in October for the
Texas Teen Book Festival
in Austin. I'm so excited.
There is also a New Adult series that will come out next May by Sarah that I can't wait to get my hands on:
A Court of Thorns and Roses
. I will just leave you with this, it's a retelling of the fairytales "Beauty and the Beast", "Tam Lin", and "East of the Sun, West of the Moon".